Fun Assisted Living Activities in Chico and Oroville, CA
Encouraging Social Participation for Seniors
Roseleaf Memory Care Communities provides enriching activities for our resident seniors throughout Chico, CA and the surrounding areas. Our Life Enrichment program allows our residents the opportunity to explore self-directed interests through participation in activities. We develop and encourage social participation, purposeful activities, and positive interactions through personal interviews with residents and families. Our creative team organizes each activity with residents, families, and volunteers.
Our Comprehensive Services
From respite care services to hospice and palliative care, Roseleaf Memory Care Communities offers a wide range of comprehensive services. Below, we've gone into detail about each service we offer.
The Benefits of Arts & Crafts for Seniors
Arts and crafts can provide a wide range of benefits to seniors and dementia sufferers. Painting, writing, drawing, and other crafts promote personal growth, alleviate boredom, and encourage socialization with others. Arts and crafts can also help reduce stress caused by memory loss or dementia. Art sessions are centered around mixed media activities paying special attention to prompting conversation and original creativity. Additional benefits include:
Feelings of relaxation and control
Encouraged risk-taking and fun
Improved cognition and memory
Enhanced sense of identity
Increased self-esteem
Roseleaf Memory Care Communities Arts & Crafts Offer
At Roseleaf Memory Care Communities, we offer various arts and crafts for seniors. These include, but are not limited to, the following:
Decoupage designed to offer tactile sensation practice
Painting on mixed mediums or ceramics for visual and small motor skills
Clay modeling for strengthening hand muscles
Crafting activities using glue, paint, scissors for small motor coordination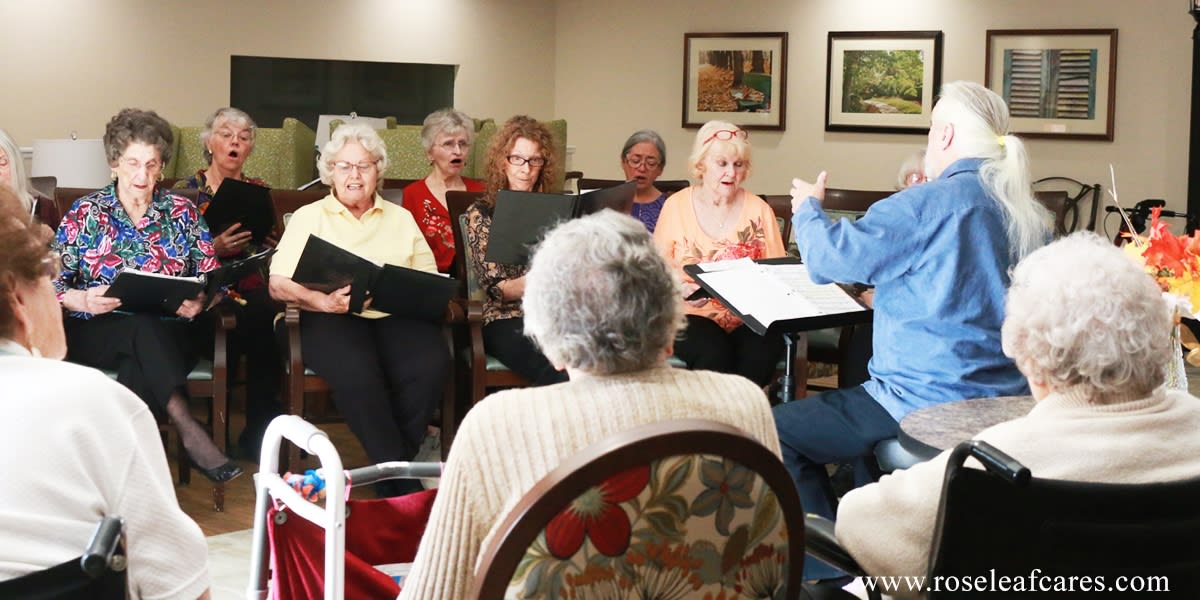 Our Additional Activities
At Roseleaf Memory Care Communities, we offer numerous additional activities. These include, but are not limited to, the following:
Reading, listening, and storytelling sessions individually and with a group
Exercise groups designed to strengthen muscles, including vocal and neck
Structured, supervised resident friendship groups and tea-time for socialization
Pet therapy sessions help increase mobility, reduce stress, and help with anxiety
Nature walks on our grounds for relaxation
Relaxation sessions and spa days
Beauty and barbershop days
Contact Us Today To Learn About Our Activities
If you are looking for assisted living activities in Chico or Oroville, CA you've come to the right place. Roseleaf Memory Care Communities provides professional, personalized services for seniors. Check out our various locations or take a virtual tour of our properties. Contact us today to learn more about our memory care communities. We look forward to serving your needs.